"Blond Squad" is a synonym for the conservatives' chick of choice. She can be brunette, although that is not as desirable. She has to be dumb.
Here is a cliched comment, if ever there was one, by a conservative columnist about "Carrie [Prejean's] book, Still Standing:
It "reveals a courageous woman whose Christian faith is still in its infancy. She was thrust into the national spotlight and all too quickly became a heroine for those who are sick and tired of Hollywood and the thought police. Unable to see yet the disconnect between her desire to be a 'Victoria's Secret Angel' and the biblical morality she professes, Carrie is painfully discovering truth as she goes."
Contrast the comment with the sordid reality:
"Carrie Prejean is known for hard-core sex tapes, nude pictures and a string of lies."
And this:
"Vivid Entertainment wants to acquire the rights to the 'erotic footage that Carrie Prejean, former Miss California, produced for her boyfriend,' according to the letter obtained by TMZ.com. In the letter, Hirsch says Prejean could 'certainly earn millions of dollars' from a deal to distribute the racy videos."
Here is more of Fox News' favorite character's trademark narcissism and exhibitionism disguised in the liberal language of the professional victim:
Carrie Prejean says a steamy tape she made for an ex-boyfriend a few years ago was "the biggest mistake" of her life.
The former Miss California USA told Fox News' Sean Hannity Monday that she shot the racy tape by herself for a boyfriend she loved when she was 17. Later, he "betrayed" her and sold it.
Ann Coulter's powers of deduction seemingly don't extend to Conservative Victims and Their Assault on America.
Prejean's looks comport with what I've termed the porn aesthetic. She is most certainly not beautiful.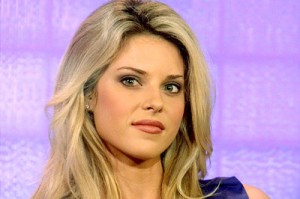 Those who've been conditioned to consider beautiful women who look well-used, cheap, unrefined, and whorish even in their youth will object. But you only have to think of Audry Hepburn, or the bare-faced Julie Christie to remember what natural, striking beauty is.
Update I: Julie Banderas brought us the brunette dumb moment at Fox News. The self-important anchor asked an embarrassed co-host and their viewers to look at head shot of herself and a very plain man—guys are getting uglier and luckier. If you look closer, was the inference, you'd see not two, but three people. Thus the nation learned that A Child Would Be Born to A Really Dumb Brunette.
Update II (Nov. 17): It gets rather confusing when, with the approval of the Republican coterie of Fox News—and unchallenged on CNN—Carrie Prejean gets to lump herself with Michelle Bachmann as a brilliant conservative woman maligned by media. Conservatives had better take care to separate their bimbos from their firebrands.