Other than the gorgeous Alicia Keys, host of the 61st Grammy Awards, who has talent and is certainly charming, and Dolly Parton, a total pro—the show showcased the gutter culture that is the American music scene. We are now truly in the musical sewer.
The petulant female artists, so proud of their seized power, showcased nothing much but hip movements, pelvic thrusts and tush twerking. Not one inspiring beautiful dance did these crass stompers execute on the elaborate stage.
Janelle Monáe? Sum total of her "talent" is simulating sex on stage.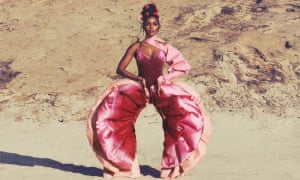 Screaming? Oh yes. Good voices? Nada. The insipid Kacey Musgraves is a two-chord whiner who makes me miss Sarah McLachlan.
Great melodies? Nothing; other than a few truly great old songs botched by the newbies' ugly warbling: it's the custom. Nobody learns to sing properly.  For example, a screaming duo, Chloe x Halle, absolutely mutilated the exquisite, emotional song, "Where Is The Love," performed in 1972 by Donny Hathaway and the magical Roberta Flack.
Again, not one memorable song did I hear, sporting a decent chord progression and some melodic variety; not one vaguely competent guitarist or instrumentalist: nothing.
Understandable. Why bother to acquire instrumental proficiency, instruction in composition and voice training when the swaying hips, jutting pelvises or just attitude (Dua Lipa) are what's on sale and  in demand?
I used to have some respect for Lady Gaga. But to watch Gaga, legs permanently splayed like an arthritic hooker, traipsing around clumsily, attempting to head-bang, but getting disoriented (yeah, it takes a metal-head guy to do that), then lugging microphone and mount around like a geriatrics with a walker and Depends: this was not good, to put it mildly.
The tartlets I watched "sing" at this Grammys would have been even more inaudible and tuneless were it not for the Auto-Tune: the "holy grail of recording," that "corrects intonation problems in vocals or solo instruments, in real time, without distortion or artifacts."
This T & A line-up would be reduced to even more embarrassing grunts, out-of-tune yelps, and bedroom whispers, if not for the Auto-Tune.
Most of the performers were  G-d-awful as musicians. They sustain one or two pitches and exhibited little proficiency on any of the instruments they belabor.