LAYING OF THE HANDS BY HOMELAND SECURITY. Feel free to come up with other captions to this image, in which a young woman, palms up, endures a TSA head massage. It joins a growing stash of similarly themed Americana, in which minority members—represented in federal agencies in greater numbers than among the larger population—lord it over the maligned and despised majority.
This is no spiritual ministry.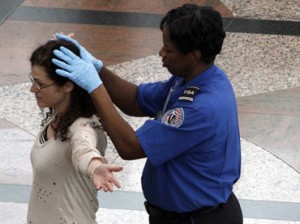 In my case, a large African-American woman had summoned me with a crooked finger for a pat down, during which I thought of the film "Midnight Express." And in particular, the scene where Billy Hayes' far-from-delightful Turkish jailer schemes to enjoy some time alone with the young American. My tormentor wore the same sadistic, atavistic expression. Her giant digits were soon upon my chest and between my legs.
In the TSA grope-a-thone, a preponderance of manifestly angry minorities face off against the submissive majority. It's not easy to prove—more so because there is no will to prove it—but you'd be hard pressed to view this sort of TSA pat-down, in this case, of a toddler in a cast (via LRC.COM), as racially insignificant or innocent.
Catholic nuns are notoriously liberal—having recently been admonished by the Vatican for infidelity to the Church's teachings. So this nun probably doesn't much mind having her habit disturbed by a similarly clad TSA handmaiden.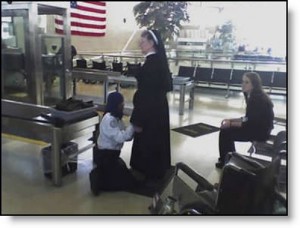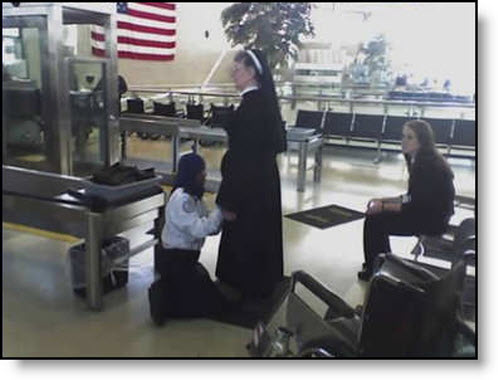 If you find footage of TSA agents frisking black tots, or elderly and crippled black old ladies, please send it along.
UPDATE (April 22): Meantime, In Lefty La-La Land.
A naive, lefty parallel universe RG (in Comments) has going there, in opposition to what is looking like a critical mass of facts and anecdotes. What was the last sentence in this post? "If you find footage of TSA agents [black or white] frisking black tots, or elderly and crippled black old ladies, please send it along."