THE NEW COLUMN is "Conservatism's Perennial Piñata." "Politically powerless and proud, Native-Americans are an easy target." It's currently on WND.com. An excerpt:
…  As they heap contempt upon Native-American societies—establishment bobble heads, with admirable exceptions, are at the beck and call of African-American interests. Most conservatives agree about the legitimacy of African-Americans' eternal grievances ("the fault of Democrats," they intone). The same establishment offers incontinent exhilaration about the greatness of African-American heroes (MLK über alles). And the only argument mustered in these quarters for raising, rather than removing, statues for the South's heroes is, "We need to preserve our history, horribly flawed with respect to African-Americans, mea culpa." Or, "Who's next? Jefferson?"
Conservatives seem constitutionally (as in physically) incapable of arguing the merits of Robert E. Lee , something Lord Acton managed on solid philosophical grounds.
Here's a theory as to why conservatives use American Indians as their perennial piñata, while generally acceding to the aggressive demands for permanent victim status levied by African-Americans. …
… READ THE REST. "Conservatism's Perennial Piñata" is currently on WND.com.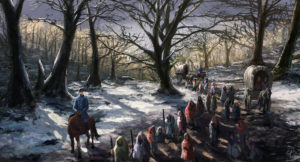 You can read the Mercer Column weekly on the Unz Review, WND.com, Daily Caller, frequently at American Thinker, very occasionally on Townhall.com, and certainly on the other fine outlets listed here. It's always posted, eventually, on IlanaMercer.com, under Articles. Please share.