NEW COLUMN, "Uncle Sam Still King Of All Invaders: Ukraine, Realpolitik & The West's Failure," is now on WND.COM , The Unz Review and The New American, my new home. MY FAVORITE LINE IN IT has been retained only for the Unz Review:

If Putin belongs in the Hague's International Court of Justice, so do Genghis Bush, Dick Cheney, Condi Rice and their countless culprits. Colin Powell is already in the Hadean afterworld for his role in the invasion of Iraq.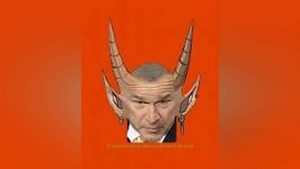 Excerpt:
… There is something utterly obscene—as rudely shocking as the front-row viewing of the "Shock and Awe" visited on Iraq—about watching the displacement of people and the destruction of innocent lives in real time, on television, without lending a hand.
And I don't mean a military hand.
Ukraine's President, Volodymyr Zelensky—who is the toast of the town simply because he did not skedaddle from the mess in which he mired his country—to this ass with ears goes a special award for recklessness. Not fleeing a situation largely of your making does not a hero make. Curiously, we Americans have offered Zelensky the coward's way out, when we ought to have forced him to sit down with his foes.
Granted, America, as British paleolibertarian Sean Gabb quips, is "some kind of zombie apocalypse plus nuclear weapons that might not yet be past its use-by date. It has not won a war against an equally-matched power since it defeated itself in 1865." However degraded, the onus is on the USA, the only so-called responsible superpower, to calmly negotiate with Putin on behalf of his innocent, weak victims. Instead, world leaders watch the suffering on TV and bemoan the fate of the sufferers. Both sides are a disgrace and a failure to have brought us thus far. Ditto NATO and the EU.
This is precisely what President Joe Biden should be shamed into doing now: talk to Putin; thrash out a cease-fire, ASAP; haggle for the lives of the population under siege because led by imbeciles. …
… Ukrainians, for their part, are tireless and wily lobbyists in Washington, way more cunning than their American counterparts. To all intents and purposes, Zelensky, head of the corrupt American client statelet that is Ukraine, had tethered the fate of his country to America, NATO and the EU, constantly trying to bend these foolish and feckless entities to his will; too much of a clown to look out for his countrymen's safety, rather than his own popularity in the West.  …
… Having sat out the '67 and '73 wars in Israeli bomb shelters—I still remember what old-school diplomacy and statesmanship—realpolitik—sounded like. Diplomatic tools like substantive talks, a cease-fire, and an agreement between warring sides, however, have been absent from the repertoire of the two tools, Presidents Biden and Zelensky. …
… READ "Uncle Sam Still King Of All Invaders: Ukraine, Realpolitik & The West's Failure," is now on WND.COM, The Unz Review and The New American, my new home.

UPDATE (3/4): follyofwar says on the Unz Review:
Ms. Mercer is a top-notch intellect and excellent writer. I am ashamed of my country and disgusted by the Euro weenies who refuse to extricate themselves from America's "Iron Heel," (a novel by Jack London).  

Thanks, Martin on Twitter:
A powerful, well written article, as always. Thank you Ilana!

— Martin McAvoy (@MartinMcAvoy_) March 4, 2022