Oscar-Wood's feather-plucking habit is slowly abating. He has, so far, grown back green socks. He had previously plucked them, leaving only red rims on his little bare legs. Oscar-Wood says, "Moron," "hello," "knock-knock who's there" after punching a bell, "Hello Omar" (the name the breeder had given him, which had to be changed, for obvious reasons), "ring-ring," "Atshoo" in a pitiful voice, and generally sounds like one of those little rubber toys you press and they emit cute sounds. When he feels insecure, Oscar rushers into his cage and snuggles up to his comfort toy—a thing that combines fluff and wood—and chews on some wood for comfort.
It works for him.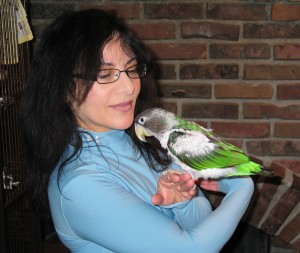 [Click on image to enlarge.]
Update: Oscar-Wood loves his neck stroked. He indicates he wants it done by bending his head right down and exposing his neck. If he can't get a human to do it—preferably daddy, whom he adores—he folds two of his pink claws over the one, and uses the remaining claw to stroke his own neck. Needless to say, he closes his eyes when tickling himself.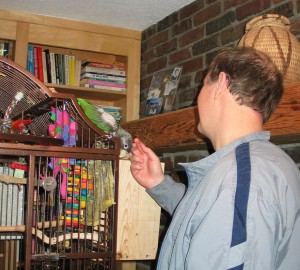 Oscar-Wood's little green socks and red jacket lapels are growing back.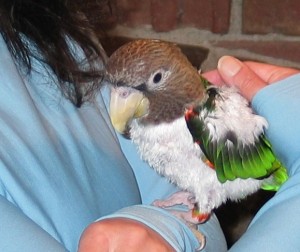 Oscar recommends that you buy his mommy's book, Broad Sides: One Woman's Clash With A Corrupt Society. Proceeds go toward the Oscar-Wood and T. Cup Nut & Wood Fund.