In looks, Rachel Jeantel, Travon Martin's girlfriend, reminds me of the poor, grotesque Precious from the eponymous (horror) film. However, Jeantel has attitude. She's sly, wily and she'll cut you (ghetto for dangerous).
A lot of predictable pixels have been spilled on explaining a dah factor: why, in race obsessed America, "Black People Understand Rachel Jeantel," whereas "White People Don't."
How boring. Especially when Rachel is so interesting.
I could not get enough of her. The fake bangs and bun, the authentic eff-you attitude, the honest, sad, unapologetic admission of ignorance. The soft voice, so different from the staccato, tart tones emitted by so many of the nation's white girls. How many of the latter can even use the word "cursive" in context? (Rachel admitted she could not read "cursive," when asked to read a letter she had allegedly penned as an account of Martin's shooting.)
As I said, Rachel rocks, in a grotesque kind of way.
Celebrity chef Paula Deen was accused of being a relic from the Old South. I doubt that blacks in the bad old days were as lost, as in on a road to nowhere, as poor Rachel is.
Rachel Jeantel holds up a mirror to American culture. To the men who questioned her, she is like an alien from Deep Space. A stranger.
America is a nation of strangers. It has become a mass of writhing, competing, combative and rather miserable factions, motivated by resentments and envy, and lacking in any common core, other than the State. The State manages and fuels this misery.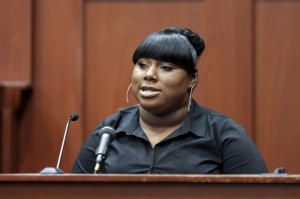 UPDATE (6/30): WORLD STUPIDITY TITLE STILL HELD BY WHITE AMERICAN GIRL. Rachel Jeantel is not nearly as stupid as Lauren Caitlin Upton of the 2007 Miss Teen USA fame. Caitlin was asked why so many "Americans can't locate the U.S. on a world map." Her reply included references to "U.S. Americans," "South Africa," "Eyeraq," "Asian countries," "our children," each prefaced by the "sophisticated" phrase "such as." Here's the full answer. It won Upton the "World Stupidity Award":
I personally believe that U.S. Americans are unable to do so because, uh, some, uh, people out there in our nation don't have maps and, uh, I believe that our education like such as in South Africa and, uh, the Iraq, everywhere like such as, and, I believe that they should, our education over here in the U.S. should help the U.S., uh, or, uh, should help South Africa and should help the Iraq and the Asian countries, so we will be able to build up our future [for our children].