I watched Amanpour's CNN's program on genocide. No mention was made of the genocide of Boers by the British during the Second Boer War. Fifteen percent of the Afrikaner population was rounded up, interned, and starved to death–27,000 women and children.
Apparently after some controversy, Amanoour even mentioned the poor Armenians whose wholesale slaughter is usually denied because the slaughterers, our "allies" the Turks, demand the denial of that Holocaust. National interest and all that stuff.
Here is a rather common image from the annals of the Second Boer War (1899-1902). The caption follows, below.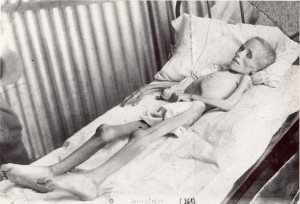 "The young Lizzie van Zyl who died in the Bloemfontein concentration camp: She was a frail, weak little child in desperate need of good care. Yet, because her mother was one of the "undesirables" due to the fact that her father neither surrendered nor betrayed his people, Lizzie was placed on the lowest rations and so perished with hunger that, after a month in the camp, she was transferred to the new small hospital. Here she was treated harshly. The English disposed doctor and his nurses did not understand her language and, as she could not speak English, labeled her an idiot although she was mentally fit and normal. One day she dejectedly started calling for her mother, when a Mrs Botha walked over to her to console her. She was just telling the child that she would soon see her mother again, when she was brusquely interrupted by one of the nurses who told her not to interfere with the child as she was a nuisance."
Update: JP's heartfelt comment hereunder with respect to how Afrikaners were treated warrants mention of another aspect of genocide, salient in the plight of the Afrikaners, then as now: demonization. The British liked the Bantu; and hated the Boer. They demonized the Boers as retarded and stupid and would hang notices around the necks of Afrikaner kids caught speaking Afrikaans at school: "I am a donkey." (Source: The White Tribe of Africa: South Africa In Perspective by David Harrison, p. 48) Need I mention the Bantu's "Kill the Boer" slogans?