An uplifting couple of hours were spent today, Sunday, at the "Macaw Rescue and Sanctuary," a magical parrot oasis, built and operated by the best of Western Washington, Bob and Carol Dawson. (Make that the best of the best.) Not since Sean and I visited Christy Hensrude's Zazu's House Parrot Sanctuary have we been so inspired. (We endorse both rescues unequivocally.)
In preparation for the first of many such future volunteer visits, we made toys galore from non-toxic wood Sean had cut in the garage. (Reluctantly, Oscar-Wood donated some of his colorful stash of beads.) Mounds of fresh, organic greens, assorted vegetables and fruits were washed (very thoroughly) and tossed with organic seed (pumpkin, sunflower, hemp and flax) as well as nuts, smashed in-shell with a meat pounder, so that the smaller birds could enjoy Brazil, pecan and walnut.
The food we served in Bob's high-quality dishes, which required hardly any scrubbing. Yes, down to the smallest detail, these people are driven by devotion. So too were the toys hung. But most inspiring was taking in the totality of Bob and Carol's creation, all 22 acres of it. Situated in beautiful rural western Washington and ranked #16 of 290 charities in the region; "Macaw Rescue and Sanctuary" is a glorious, well-kept and smartly run haven—a home to hundreds upon hundreds of free-flying flocks of happy, thriving parrots.
"Macaw Rescue and Sanctuary" is truly a labor of love.
With Bob Dawson in front of the small-bird enclosure: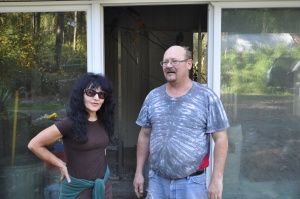 The same enormous enclosure snapped from the outside: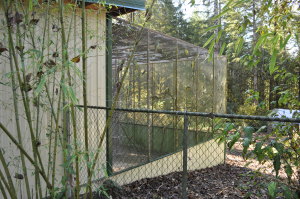 This man is the real deal:

From The Parrot Archive:
"Oscar-Wood, Non-Stop Naughty"
"'Dead Birds Flying': Help Steve Boyes Help The Cape Parrot"
Precious Oscar-Wood Pacifies Himself