He's black, he's beautiful, and he's mine. He's a 2006 Volkswagen GTI, with a high-tech 200-horsepower, 2.0-liter turbocharged engine.
My favorite features are the spectacularly smooth six-speed manual transmission (I won't drive an automatic, never have; never will.), the 18-inch alloy wheels, and the six CD changer. But it also sports leather seats with heating, along with electronic lumbar control, power sunroof that can tilt up or slide open horizontally, satellite radio, heavy-duty mats for floor and trunk, and dual zone climate control.
Carey Russ and Wayne Cunningham of CNET write that, "The Volkswagen GTI has been a performance icon since its debut on American shores in 1983, when it offered a high degree of fun and performance nearly matching those of much more expensive German sports sedans for a very reasonable price. 'A pocket rocket,' they call this thing. Consumer Reports name the fifth-generation Volkswagen GTI the top sporty car in its price range."
You can say that again. A one-time race driver in South Africa, my brother-in-law is a fan of the GTI and is responsible for piquing our interest in the "pocket rocket." Sean told him, "We had both planned to test drive it. Ilana started out driving and that was it; she liked it so much that I never got to try it! It goes like a bat out of hell."
Oh, you'll laugh at this one. I thought I was driving suspiciously fast. Yet Sean kept tut-tutting, "You're not going fast enough. Well, he was looking at the Rev counter not the speedometer. So it turns out I must have been going about 40 miles per-hour in the zones designated for "our children." A pox on them!
We immigrants from the Third World are not spoilt. This is the first new car we've ever owned; I've been driving my second-hand, 1986 two-seater, Toyota MR2 for quite a while. I loved "Mr. Two" (other than some rust, it looks just like this; still a classic beauty).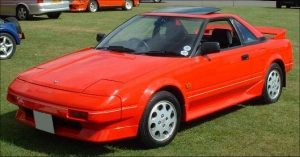 What's more, the engine is fantastic. It goes just splendidly. I have to confess, though, that once I was speeding down the highway in the GTI, I fecklessly forgot my old chariot.
Update: I am now able to report that zero to 60 takes 7.0 seconds. The stick-shift GTI–mine–is apparently an imperceptible one tenth of a second slower than the automatic and a great deal more fun. (Related, and equally revved reading: "Make Friends With Your Fast")