"Love is beautiful. Love is kind. And it turns out love is patient. Twenty years patient." So wrote performer Jennifer Lopez last month about the storybook ending to the romance between herself and actor Ben Affleck.
Outwardly, media shallows like to depict this successful woman as a feminist powerhouse, even though there is a vulnerability and warmth about Ms. Lopez. She has often said she's just "Jenny from the block," as in the Bronx.
Ms. Lopez signed her simple, sweet note as Jennifer Lynn Affleck—which is a touching confirmation that she's just a woman in love. She dropped her surname and took on her husband's.
If you recall, these two had a love affair that lasted from 2002 to 2004:
"We were so in love… But also, there was this other thing happening where we were being criticized, and it really destroyed our relationship from the inside out because we were just too young to understand at that time what were really the most important things in life… Having a second chance at real love…We learned a lot. We know what's real, what's not real. " Jennifer told Rolling Stone.
Lopez had bedded some unsavory characters like P. Diddy.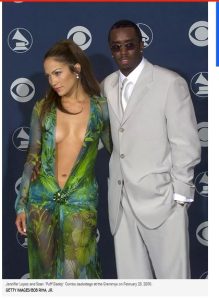 Maybe the more patrician Jennifer Garner, Ben's ex, was the answer. Clearly, however, the love and chemistry Lopez and Affleck shared did not dissipate. And more importantly, both seem to value the gift of love and to want to do it justice. When you are in your 50s and 60s, you are no longer searching for the perfect mother or father of your future children; you can simply treasure, enjoy and explore the gift of love between a man and a woman.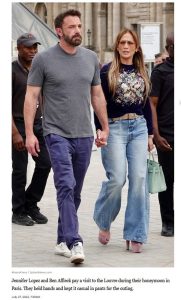 Mrs. Affleck, clearly a passionate woman, is right. Love is beautiful and precious if one is so lucky as to fall in love. And love ought to be kind.
UPDATE (8/23/022):
?B/c you know you get honest emotion from me. I'm not going to be smarmy and cynical for nothing. This seemed a sweet, genuine story. The two love each other; they aren't callously throwing it away. What do you think, @HebrewCon? Let's see. I hope they nurture their gift. https://t.co/dKAeZNZ7o9

— ILANA Mercer (@IlanaMercer) August 23, 2022