This beer baboonery is not Dylan Mulvaney's doing; it's not the fault of this poor waif; this sad, pathetic chimera of a creature ~ilana

Anheuser-Busch's purpose is, very plainly, to unseat and insult the American moral majority ~ilana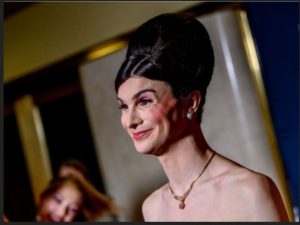 NEW COLUMN IS "On Trans-continental Stupidity & The Tit-For-Twat Sex Debate". It is featured on The Unz Review and The New American.

… A skinny transsexual called Jacqueline Jane waxes fat on TikTok about her designer vagina. Designer anything, she contends, is always better than the humdrum, off-the-rack item. Therefore, her new "coochie," JJ's term, is an improved version of an ordinary woman's lady parts.
It is here that one needs a cultural companion guide to JJ's unthinking "case" for the superiority of her newly fashioned snatch over that of a natural woman.
That America is "experiencing" historically unmatched levels of stupidity should not come as news. Risen to prominence around us is a sub-intelligent underclass of people, sexually straight and bent, whose behavior is grotesque. It is more patent in the female of the species, or in caricatures of it.
We don't need to be told of the stupidity that saturates our surrounds and floods our senses. Nevertheless, America's teens, we're informed "are dumber than they've been in 100 years."  "[T]he May-June 2023 issue of Intelligence," reports Robert Spencer, "finds that young people are experiencing the most significant decline in intellectual abilities: 'the greatest differences in annual scores were observed for 18- to 22-year-olds.'" Yet another "study by researchers at the Northwestern University Feinberg School of Medicine reveals a significant decline in American IQ scores over the past couple of decades."
And indispensable adjunct of American-style systemic stupidity is PRIDE; we're loud-and-proud about being handsomely equipped to fail. At least the discredited, unthinking, clownish "scientific community" is not worried about a statistically significant drop in aggregate American intelligence. …
… READ THE REST, now on IlanaMercer.com
https://www.ilanamercer.com/2023/04/on-trans-continental-stupidity-the-tit-for-twat-sex-debate/

* Image credit as screen picture & Dylan Mulvaney's facial feminization