Who the hell are these "Americans living in Afghanistan"? What are they doing in such inhospitable climes, in a country most of whose people hated the American presence?
I can't find a thing on their nationalities, origins, whereabouts, and occupations, although my guess is that U.S. citizens in Afghanistan lived within army erected green zones, paid for by American taxpayers.
And what is their business in Afghanistan? The incurious moron media never ask (although watch conservatives who monitor dissident content miraculously come up with these questions following publication of this material).
Growing up in Israel, I recall many Israelis, in those days, went to Africa to help a few friendly nations learn how to … farm in the desert, something Israel had perfected. What are our citizens doing in Afghanistan? Is nobody curious?
The blowhards on Fox News have been whooping it up with partisan battle cries such as, "Hostages, Americans behind enemy lines. Teach the Taliban a lesson, Corn Pop."
Dare I ask if these Americans are making money off military contracts, the spoils of the military-industrial-complex?
My colleague, David Vance, did some digging. He sends a likely breakdown of "Americans in Afghanistan," via "Danger Zone Jobs, which tracks more than 300 companies with overseas contracting jobs in Afghanistan, Iraq and other countries." It reeks: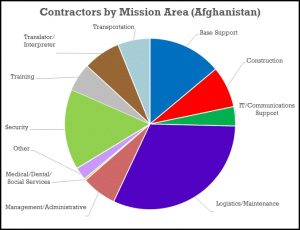 "US troops remain in Afghanistan and as many analysts pointed out, the military numbers, whatever they end up being, have typically been supported by even more private contractors. As long as troops are on the ground in Afghanistan, civilian contractors will be there with them. …The two primary sources of jobs in Afghanistan are with private contractors supporting the military and companies who subcontract to various international relief and development efforts."
"Approximately 29,389 DoD contractors supported operations in Afghanistan during 1st quarter FY19, an increase of 16.4% from 4th quarter FY18. Local Nationals comprise 21.5% of total contractor force; 23,078 US/TCN remain to redeploy."
The distribution of contractors in Afghanistan by mission category are:

Base Support 4,140 (14.1%)
Construction 2,113 (7.2%)
IT/Communications Support 951 (3.2%)
Logistics/Maintenance 9,271 (31.5%)
Management/Administrative 1,881 (6.4%)
Medical/Dental/Social Services 88 (0.2%)
Other 690 (2.4%)
Security 4,842 (16.5%)
Training 1,372 (4.7%)
Translator/Interpreter 2,138 (7.3%)
Transportation 1,903 (6.5%)
Total: 29,389
MORE.