The only reason you, dear reader, are confident that America is a benevolent actor in the world is because you are told as much every hour of the day by the foreign-policy establishment and its malignant media-congressional-industrial-complex offshoots. How many countries has the USA invaded for the purpose of regime change since the early 1990s? Scores. And that's without the color-coded, regime-change revolutions it instigates.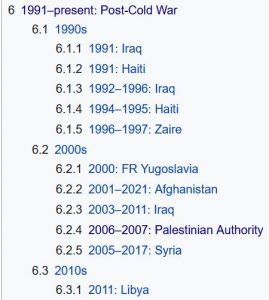 Russia's foreign meddling since the early 1990s is insignificant by comparison.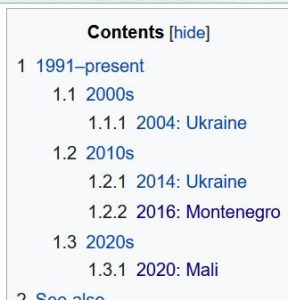 With that in mind, read the best primer on the current, unnecessary, US-manufactured conflict between Russia and the United States: "Neocons, Neolibs And NATO Inch Us Closer To Nuclear War With Russia":
"… The reason this is a new Cuban missile crisis only more foreboding is that America has sundered what Cohen has referred to as the Parity Principle—the custom in diplomacy of considering both sides to a conflict. Leaders and thinkers who attempt to avert conflict with Russia are thoroughly demonized and destroyed, even accused of treason. Naturally licit behavior—comity or diplomacy with Russia—is criminalized by a Federal Government that has enough laws on the books to indicts each one of us, if it so desired. Witness the Helsinki summit, for which Trump's diplomacy saw him branded a traitor. Anyone who wants to reduce pressure with Moscow is run out of town.
So far, the political storyline du jour has been manufactured by America's gilded elites. To this, DC operative Karl Rove confessed during the era of Bush II: 'We're an empire now, and when we act, we create our own reality.' When you're the most powerful entity in the world, as the US government certainly was—you get to manufacture your own parallel universe with its unique rules of evidence and standards of proof. What's more, as the mightiest rule-maker, you can coerce other earthlings into 'sharing' your alternate reality. And when war is on the horizon, America's elites enter a state of hysterical mass contagion, almost like animals in-heat.

Why wage a war in furtherance of interests not our own? ask paleoconservative patriots like Messrs. Pat Buchanan and Tucker Carlson. The question, alas, is a non-sequitur, as it is incorrectly premised on the false notion that the United States government and Department of State conduct foreign policy in the interest of the American people. The assumption of congruity between US foreign policy and the interests of the American people is utterly false.
No such congruity exists. US State craft is driven, first, by the arrogance of power and delusions of ideological superiority, as well as by self-serving elite concerns. The US ruling interests to prevail are those of 'The Blob' (the permanent foreign policy establishment), military-industrial-complex, a media also engaged in expedient myth-making, not news reporting, crooked corporate elites, and a sanctions-giddy US Congress, in which there are currently no pro-détente thinkers (nor thinkers, for that matter).
To remain powerful, these factions must reflexively project power. Because the relationship between the elites and the American people is zero sum, the stronger the elites aforementioned get; the weaker and more imperiled the American People become. … "
... READ THE REST: "Neocons, Neolibs And NATO Inch Us Closer To Nuclear War With Russia"

*Image courtesy Marisol Nostromo