Americans as architects of The South-African catastrophe" is part of the analysis I effect in my 2011 book, Into The Cannibal's Pot: Lessons For America From Post-Apartheid South Africa.
This perspective is highly unusual. It is far from acceptable narrative or received wisdom among historians, certainly not in the United States—or by any historian that I know to be writing today.
My good friend, the brilliant Dan Roodt, whom I long to see on Tucker Carlson, shares this perspective. None of the sorts Tucker ordinarily has on would take this tack.
Yet, Tucker Carlson hinted today that he might be taking this tack in covering the riots and the collapse in South Africa.  Really? UPDATE (7/13/021): I'll just say it: If it's not Dan Roodt, PhD, or me—it's likely worth shit.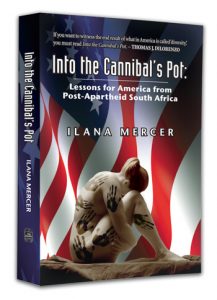 Here are a couple spin-off articles, excerpted from my book, expounding the theme aforementioned, and published widely, to their great credit, in familiar conservative outlets:
*  "America's Radical, Foreign-Policy Alinskyites Destroyed South Africa!" Ilana Mercer, March 25, 2021
* "The American Architects of The South-African Catastrophe" Ilana Mercer, June 9, 2017, published widely, including at the Mises Institute.
"30 Years Since F. W. de Klerk's Great Betrayal," Ilana Mercer, February 6, 2020
* Image: President F.W. de Klerk and Nelson Mandela shake hands during negotiations between the South African government and the ANC (Getty Images).

UPDATES (7/13/021):
1.
Just received a request from a well-known European magazine to write a long spread about #SouthAfrica. Contra America's celebrity TV egos, Europeans get who gets it. Alas, no time, so I recommended THE ONLY suitable replacement: @DanRoodt, PhD. Watch your. email, maat. https://t.co/1Zseb2uiuD

— ILANA Mercer (@IlanaMercer) July 14, 2021
2.
See, I'm tired of seeing mediocrities (foreigners, to boot) spouting about #SouthAfrica–types who have no historic sense of Old South Africa and no philosophical moorings. Told editor that @DanRoodt, PhD, writes with great passion and insight and has a European sensibility. https://t.co/oLAufTq2r0

— ILANA Mercer (@IlanaMercer) July 14, 2021
Good of VDARE to share:
From 10 years ago… courtesy of @IlanaMercer

Ilana Mercer's Preface to Into the Cannibal's Pot: Lessons For America From Post-Apartheid South Africahttps://t.co/edz21UN0Q3

— VDARE (@vdare) July 13, 2021