The NATO provocation goes back almost two decades. Democrat and Republican administrations share equal blame in provoking and encircling Russia. Putin has been stating as much for this duration, close on two decades. Dinesh D'Souza, then, shows himself to still be the same Republican hack he has always been when he exonerates the Republicans, predictably claiming, "the Biden administration and the West bear a share of the blame for the tragedy unfolding in Ukraine," while conveniently omitting his party, the Republicans.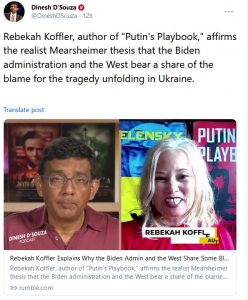 Watch Putin's series of discussions with Oliver Stone circa 2015 in which he recounts the history of Russia-USA exchanges over NATO. Therein, Putin remarks that the US and NATO, NATO being an instrument of the US, have no allies, only vassals. In these interviews, Putin states perceptively that, in the US, administrations come and go—but policy remains unchanged, especially toward Russia.
Mearsheimer, moreover, doesn't blame Biden alone. More crap. Mearsheimer is not a Republican operative like D'Souza. He saddled US foreign policy, conducted by the UniParty, for the Ukraine tragedy.
In "D'Souza's Epic 'America' Error", I show quite simply why "D'Souza's case for 'American exceptionalism' is undergirded by a confusion of category:
"Is America a good country? Are we a bad country?": The … professional gabber collapses the distinction between "America" and the U.S. government. This is a mistake. The state is not the same as America. … D'Souza's is a box-office success. The statist meta-structure of his argument for "America," however, is rooted in error. Serious thinkers should give it no quarter.
Mercer on Ukraine:
1. Neocons, Neolibs And NATO Inch Us Closer To Nuclear War With Russia (01/29/2022): https://www.ilanamercer.com/2022/01/neocons-neolibs-nato-inch-us-closer-nuclear-war-russia/
2. Uncle Sam Still King Of All Invaders: Ukraine, Realpolitik And The West's Failure: https://www.ilanamercer.com/2022/03/uncle-sam-still-king-invaders-ukraine-realpolitik-wests-failure/
3. True Story: Russia Finds WMD In Ukraine! https://www.ilanamercer.com/2022/03/true-story-russia-finds-wmd-ukraine/
4. It's Biblical, Zelensky: A Leader Who Fails To Haggle For The Lives Of His People Has Failed https://www.ilanamercer.com/2022/03/biblical-zelensky-leader-fails-haggle-lives-people-failed/
Mercer "Hard Truth" Video Podcasts on Ukraine. Please Subscribe (David Vance and I are working on having Fred on "Hard Truth", which is on a short hiatus):
https://rumble.com/c/HardTruthPodcast
https://rumble.com/vx058f-true-story-russia-finds-wmd-in-ukrainehtml
https://rumble.com/vw897h-russia-to-us-on-ukraine-pot.-kettle.-black..html
https://rumble.com/vtea18-neocons-neolibs-and-nato-inch-us-closer-to-nuclear-war-with-russia.html