©2021 ILANA MERCER
What on earth is wrong with the whip? The reference is, as CNN put it, to "recent images that appear to show US Border Patrol agents on horseback confronting migrants along the Rio Grande." So far so good.
Videos taken by Al Jazeera and Reuters appear to show law enforcement officers on horseback using aggressive tactics when confronting migrants, who are largely Haitian, to prevent them from crossing into the US.
Wonderful.
"The Biden administration is expressing horror," promising to proceed aggressively against these poor horseback officers, who work in near-impossible conditions, without institutional support and for meager wages.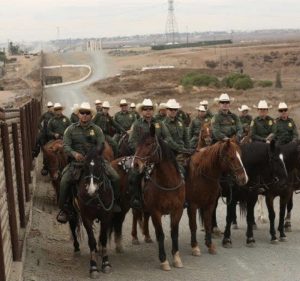 How does the Right respond? Is it a whip or is it a rein, they kibitz. Look, if it's not a whip, it ought to have been one, and if the border patrol agent used a rein as whip—then hooray for him. The End.
That's the Right's problem. The anatomy of every single left-manufactured national scandal sees our side always conceding to the legitimacy of the left's case, and then going on the defensive, instead of attacking.
In short: asinine. stupid. defeatist.
The anatomy of a good response is never, but never, to apologize and equivocate about a principled behavior, in this instance, the right of self- and national defense.
The right response: "What if US Border Patrol agents on horseback were wielding whips? Got a problem with repelling and whipping outlaws, who are charging you, your horse and into your country?"
Vice President Kamala Harris called the images "horrible" and said she supports an investigation into the matter.
Heroic, not horrible. Part of the job of the law is to round up the likes of the Haitian invaders and turn them back. If the law is not doing this—it's because natural morality has been inverted. Good is bad and bad is good. Right is wrong and wrong is right.

What a moral inversion it is that forces US law enforcement to process and pander to outlaws; instead of arresting and expelling them IN JUST THIS MANNER.
* Image via Tracey Ann Whitehill on LinkedIn