TOLD YOU SO. In "Ron DeSantis Delivers First Principles In Action," my latest column, as well as in the podcast preceding it, I told you that,
"A vote for Trump in 2024 is a vote for the Jarvanka organism, or familial mutations of it. The family will be back in the People's House, minus the MAGA agenda."
We learn that "Trump [is] trying to convince Ivanka and Jared to join his 2024 announcement, report says."
"In order to make America great and glorious again, I am tonight announcing my candidacy for president of the United States," Trump, 76, told supporters in a gilded ballroom at his Mar-a-Lago resort in Florida.
It so happens that the mercenary Jeannie and Jared Kushner have no use for The Don any longer. However, we heard that the first time around. Just before Jarvanka moved into the White House, we had been promised that the Trump kids would be staying out of politics and  running the business. My point being that the two will always be part of the deal; part of Donald Trump's presidential vaudeville.
"Jeannie," of course, is an allusion to a costume in a sitcom—one that a grown woman not featured in a play-play comedy, should not wear near a wedding. Seemed obvious to me.
Ivanka's outfit reminds me of this! pic.twitter.com/qub7y7ok8B

— Re-nee ????? (@terese_renee) November 12, 2022
A WORD ABOUT TASTE. Taste is class. Taste is the hallmark of culture, of refinement. To some degree, taste is subjective, but not entirely so. There are certain elements of style that are absolutely universal. The gilded Trump abode and the Trump weddings are gaudy nouveau riche in the extreme.
All that pale, sequinned, baby-doll Lolita pastels, coupled with garish over-painted faces, border on Liberace levels of tastelessness.



Kitsch: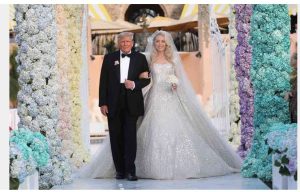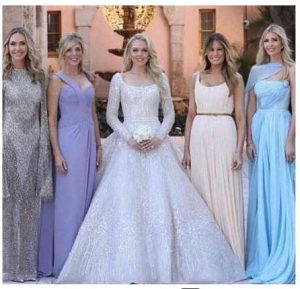 Kitsch a la Kimberly Guilfoyle (with a touch of crazy):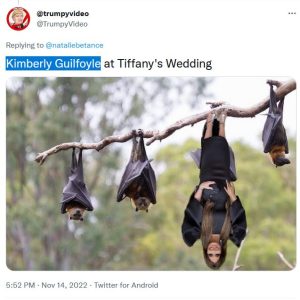 If you want to know how to dress to perfection, look to Kate Middleton's couture. Pricey for sure. Kate's classic, classy high-couture. MORE: