If my daughter was being looked over or even chatted up by frustrated foreign soldiers out on patrol, I would be worried. The image of this stunning, fragile, Afghan girl, dwarfed by the obviously "attentive" military men, conjures the fate of Abeer Qasim Hamza. (At least in the mind of this mother.)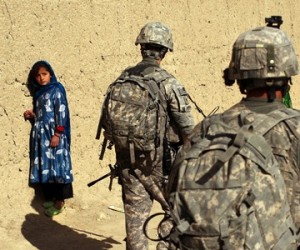 Naturally, Republican deadheads like Laura Ingraham and James Hirsen railed against Brian De Palma's depiction, in "Redacted," of the girl's rapists and killers.
"'Redacted': De Palma Tells The Truth"" serves as a reminder of the hazards to Their Children of Our Occupation:
"… A mop of hair, a delicate face and big black eyes: The only image we have of her is the one plastered on her Iraqi ID card. It was taken when she was a two-year-old tot. She lived with her mother, father and three siblings in the village of Yusufiyah near Mahmoudiyah.
Unfortunately for them, their farmhouse was situated near an American traffic checkpoint. The neighbors later said soldiers would watch the girl go about her chores, and gesture lewdly. The culprits, led by ringleader Pfc. Steven Dale Green—a school drop-out with a police record; recruitment standards are being lowered to fill quotas—would stage mock raids on the family's home during which Green fondled Abeer.
Finally, Green, accompanied by Sgt. Paul E. Cortez, Spc. James P. Barker, Pfc. Jesse V. Spielman, and Pfc. Bryan L. Howard, hatched a scheme to rape Abeer. In they went, shooting and killing Abeer's parents and sibling, and then gang-raping her. When they were through with Abeer, they summarily executed her with a shot to the head."…
In "Portrait Of An Occupied Country," Al Jazeera intelligently analyzes how NATO (read the US) is rapidly replacing and usurping local Afghan societal structures.
UPDATE: Remember little, innocent Abeer and her family, who died a horrible death at the hands of American soldiers. May the family rest in peace; may the murderers be put to death for their crimes.