UPDATE (5/30):  Here we are: King Tuck's Transformational. DeSantis Cows to Israel. Roger Waters Refuses.
https://rumble.com/v2qx0sv-king-tucks-transformational.-de-santis-cows-to-israel.-roger-water-refuses..html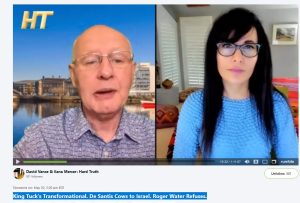 THE HARD TRUTH PODCAST with David Vance and myself will be live on Tuesday, May 30, at 12:00 PM Pacific Standard Time, 3:00 Eastern.
Please join us on Rumble. https://rumble.com/c/HardTruthPodcast
Send in your comments and/or questions during the podcast. We really do enjoy your insights. The Boss, our producer, posts as many as he can.
https://rumble.com/c/HardTruthPodcast
That Tucker was/is transformational is what David Vance and myself argued on the April 25, live, "Hard Truth" podcast  (https://rumble.com/v2kbeyc-tucker-removed-by-fox.-robert-kennedy-jr-against-the-deep-warfare-woke-indu.html), recorded a day after Mr. Carlson's dismissal. Our forecast proved predictive. Fox is, if not finished, greatly diminished. We discuss developments since.
HARD TRUTH had given Governor DeSantis top marks. https://rumble.com/v1th20q-trump-trashes-a-triumphant-desantis-gloves-coming-off.-climate-conference-i.html  But has the governor been a bad boy? Flying to Israel to sign legislation for America? Legislation that may impact speech in America? What's that all about? Thanks are extended to valued viewer Eric for the tip.
And other surprises, as arise when David Vance and I vibe.
JOIN, and click to FOLLOW, here:  https://rumble.com/c/HardTruthPodcast