Dr. Edward Dutton of the popular "Jolly Heretic" podcast interviews me about my 2011 book, "Into the Cannibal's Pot: Lessons For America From Post-Apartheid South Africa"; what it portends for America—has the tipping point been reached?—and much more.
Ed quipped that the book has held up "quite well." I, of course, wrote "Into the Cannibal's Pot" with a view to boldly outlining for Americans the contours of the anti-white society that will materialize in America if… if…
Alas, that society is upon us.
I suffer the usual glut of Jewy questions and taunts, but I get the last word. A spontaneous one-upmanship, if you will. But don't go skipping to the end.
Still, Ed and I have a jolly good time of it. Watch:
UPDATE II (8/13/022): I have uploaded the video with Ed's kind permission to my own YouTube channel. You can now watch the joust minus the offensive "Jewy" comments below it.
Nothing personal, Mr. Sheer. But I'm up to my eyeballs–had it!–with brooding, sour, judgmental puritanical scolds—species prevalent in North America—lying in wait to take offense at me, my jolly fun use of English ("off with her head!")–and my persona; simply because it's not flat-lining. The "F" word when used judiciously is fabulous. Ask D.H. Lawrence. Being an alive, if demure, personality among the walking dead isn't fun.
I'm glad you clarified your position on abortion. Although we differ in the matter at least you oppose late term abortion and that is important to me. Enough of the ef word—Please! It's awful.

— Sheer Light (@Sheer_Light) August 12, 2022
UPDATE I (8/12/022): The Mercer fan page praises me for turning in a good performance and has some mild, fussy and unfocused words (the worst kind) for the Jewy stuff that occupied the segment.
Reply: You find "Jew, Jew, Jew" "boring"? What an understatement. Try enduring it for decades. As someone who has written in depth, well-developed works on the defining issues of the day, since 1998–I was having to speak not about my writing; but rather, to defend my character on the grounds that I was born Jewish; and in response to the  irrational hate of low-IQ, emotion-driven mouth-breathers for someone they don't know.
Their "Jew. Jew. Jew." b.s. is boring it's not even worth commenting on.

— Ilana Mercer Quotes (@MercerQuotes) August 12, 2022
Here is a simple statement from a man with an obvious urge to do the right thing and an ability to say the right thing:
Robert Dolan @UnzReview says:
She takes a lot of abuse here and never whines.
Her book is actually very good.
Everytime she writes a piece we get to hear about how she's jewish…..as if we didn't already know….
C'mon. Judge people by their work and their accomplishments.
Consider also the fact that the people facing the harsh (and usually unfair criticism) are public figures…..they have the courage to speak their minds in public and reveal their thoughts to the world at large, inviting not only social ostracism but financial ruin.
As to the comment about "financial ruin," Robert gets it. My income—syndication dropped—was lost after I came out against the ConOink's Iraq War in September of 2002. And burned as hot as molten lava against it for years. Dissident in 2001; dissident now. No change.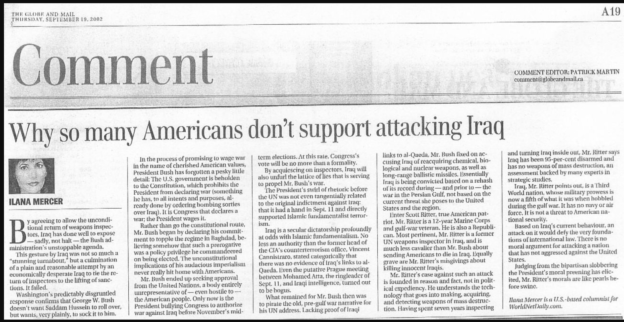 UPDATE III (8/13/022): Juvenal Early Dons His Shining Armor: 
A woman is lucky to have a friend such as Juvenal Early (nom de plume naturally), writer extraordinaire, and all-round fine human being. That my toil—and persona—inspires such a valiant defense in someone so kind and gifted means a lot—and offsets unkind cuts and slights from other quarters.
Oh, Jew! Jew! Jew! To paraphrase Scarlett O'Hara, is that all you guys ever talk about.

ILANA expressed herself in this long interview with all of intelligence, class, & erudition that she usually brings to her podcasts, and was, as always, great fun to listen to. But I'm afraid she didn't speak to the issues I was hoping to hear about: CRT, black crime, the morass in Ukraine, the utter worthlessness of the GOP, etc. For that I blame the interlocutor, Mr Dutton. He seemed to be more interested, in the first half, to hear about South Africa, in the most minute details too, & we got a little bit more about tribal traits than we bargained for. Or perhaps that's just me. ILANA has been in America for 20 years, & few writers understand better than her what's happening here, & it was that I was led to believe would be the host's agenda. But no, we got a lot of Xhosa & Zulu & Buthelezi—& the inevitable Jew questions. The patient lady rolled with the punches, & handled herself with aplomb.

When Dr. Dutton turned to the listeners' questions, it became really evident that the fix was in. The first 3 questions came from the same guy. And they all had something to do with the so-called JQ. The rest of the questions were of a similar mouthbreather sort. The final question posited one those hypothetical situations that is completely irrelevant to the way we live now (& will be living a millennium from now), something about a world where Jews can't hold office. ILANA's jolly "Fuck off" was triumphant & completely appropriate, under the circumstances. It shouldn't have been, but it was the best moment in the whole 98 minutes.

ILANA is an individual, coming at issues from an individualist's perspective. At one point, she did say that, as far as identity was concerned, she was an Old Testament (she would call it the Hebrew Bible) Hebrew, with all that that implies with respect to embracing the truth, & raining hellfire down on your enemies. I thought that was pretty cool. Certainly an original perspective. She's always been an original, you know. I scarcely know where the second-handers would be without her.

Now a lot of you will say how she ignores the elephant in the room, doesn't say who's behind all the evil in the world. You have the right to do so, & it's a testament to Mr Unz's love of free speech that you can do it here in the most colorful & imaginative ways possible. Personally, I get the enjoyment of a weekly wager with a friend, who also reads ILANA's columns. We each try to guess how many JQ questions will turn up in the Comments before the next column is posted. The loser buys. We're both getting pretty soused.