From where I'm perched, Piers Morgan is guilty of preaching treason from his perch @ CNN—and not because he is devoting his time to undermining the US Constitution. For "all vestiges of natural justice in the Constitution lie buried under the rubble of legislation and statute." Rather, Piers is a traitor for using his perch at CNN to advocate against the people's natural right to defend their sacred lives.
More crucially, Piers is not guilty of preaching treason for preaching against the government, or the dead-letter Constitution. The more men so preach, be it on the left or the right—the merrier. Treason, in my book, is an act against The People's natural rights to life, liberty and property (later today I will explain to the perplexed why the right of self-defense is an extension and a prerequisite of the right to life).
What Piers is doing is preaching treason against The People.
But is not the agitation for the violation of individual rights an act of free speech? In libertarian law—the only universally just law—there is no free speech without private property. You can't deliver a disquisition in my living room without my explicit permission, as owner of the abode. But from your property, you may preach whatever is in your heart: hate, love, violence, etc.
Is Piers preaching treason from private property (CNN)? Probably. Is asking for his deportation, as some Americans are, a use of force, or just an exercise of free speech, to counter Piers' true hate speech? Is deportation a use of force? Besides being a royal pillock, Piers Morgan is an immigrant from the UK.
You can see why the penalty some of our countrymen seek for Piers may be disputed by libertarains.
Ultimately, what Morgan is doing is reprehensible. The man disgusts me.
On a positive note: I started this blog yesterday, prompted by the site of the pillock Piers' blockhead on my TV screen, interviewing a retarded PhD from "the crap country of Britain."
Much to my delight, my husband sent me a petition calling for Piers' deportation on the White House's publicly supported website. It's worse than useless, and may be disputed in libertarian law, but it warms the cockles of this heart.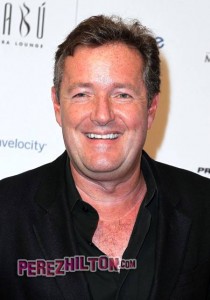 UPDATE (Dec. 24): "Oh, how we suffer for the female suffrage! I once vowed to 'give up my vote if that would guarantee that all women were denied the vote.'"
There is no shortage of pinko pukes on Fox News, especially among the women folk. "Anyone who wants a gun must go through state training and a certification process over a number of months," writes Elizabeth MacDonald (whom I quite liked), "if not a year, similar to what police officers go through. That process would include a deep-dive background check. All gun sales or exchanges must be registered with states and towns."
Megyn Kelly and her cretinous colleagues (I guess viewers were meant to focus on Kelly's stripy bottom. The rest of the segment was senseless):
Lead me to the vomitorium.