"The Uyghurs, the Uyghurs; China is oppressing the Uyghurs. Our values, our values; being an American means you must fret about the Uyghurs. You hear me, hillbilly? In fact, you can't be an American unless you worry about the Uyghurs." (Watch me!)
That's the bobble heads on TV. As dumb as fuck, bereft of any deep, historical or geopolitical insights—they mouth shallow talking points, extracted from Wokipedia.
These TV twits and twats are used to telling their receptive, equally "knowledgeable" audiences that China has "thrown a million Uyghurs into prison camps."
True (not that it's any of our business).
What the dummies on the idiot's lantern don't tell you is that, "Uyghurs count among thousands of foreign jihadists active in Afghanistan, mostly enlisted in Taliban ranks."
I'm not saying China is justified in interning a Jihad-prone population living in its midst, but neither are the overlords of the West (see "Our Overlords Who Art in D.C (2010)", if you want to know how "overlords" drifted into such popular use) justified in jailing January 6 protesters  without due process, allowing the banning of innocent, law-abiding citizens from the banking establishments, threatening those who defend their homes with incarceration, on and on.
And it is about American dissidents that I care.
While menstrual America frets over "the images, the images, oh the images ("the children, the children)" coming out of Afghanistan; the grown-ups (or the men) in the region, whose countries abut Afghanistan, have gotten together to ensure that Jihad doesn't spill over into their countries. It's called acting in the national interest.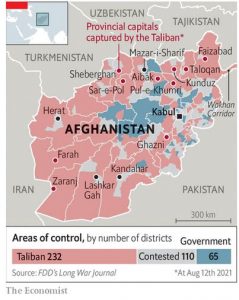 Excellent analysis in "Afghanistan's neighbours are preparing for life with the Taliban: Regional powers are not looking forward to it. But they cannot agree on what to do about it."
UPDATE (8/23): "What Beijing has offered the Taliban so far is an open hand and a hint of legitimacy. In late July, China invited some Taliban leaders to meet Foreign Minister Wang Yi in Beijing. It was a significantly public gesture to demonstrate goodwill toward the insurgent group. In exchange, Taliban leaders pledged to leave Chinese interests in Afghanistan alone and not to harbor any anti-China extremist groups." (NPR)
Sounds like China has a modest foreign policy. Striking not a military blow, but an agreement. If only…
*Images courtesy The Economist