Culture of Crybabies: When the Crybaby is King
Tucker Carlson mocked the weeping and abreacting congressmen and Capitol police force, who are without shame or dignity, during the Jan 6 hearings, now underway.
But you see, in American culture, weeping, sniveling and making ugly faces in public is considered a display of authenticity, true grief and hence virtue.
In English-influenced cultures like South Africa and Canada, crying in public is more likely to be considered tacky, showy and often insincere.
Personally, sharing grief with strangers would be difficult, phony and futile.
Police officers, who were attacked by a pro-Trump mob that descended on the Capitol in an attempt to overturn the election, delivered emotional testimonies of their experiences on January 6, pushing some lawmakers to tears.

Video shows House lawmakers, including Reps. Liz Cheney, Adam Kinzinger, and Zoe Lofgren tearing up at the accounts of the officers who were at the Capitol and at footage of the insurrection. Rep. Ann McLane Kuster, a Democrat from New Hampshire, was also seen wiping away tears as she left the hearing on Tuesday.
The "Protectors" still can't cope:
"The four officers testifying — DC Metropolitan Police Officers Daniel Hodges and Michael Fanone, plus Capitol Police Officer Harry Dunn and Sgt. Aquilino Gonell …
More than six months later, January 6 still isn't over for me," Dunn, a Black officer who endured racist attacks from insurrectionists during the assault, told the panel. "I know so many other officers continue to hurt, both physically and emotionally,"
Culture of Quitters:
Part of the Olympian spirit is grit: Showing up, and dealing with the stress of performance, if only for your teammates. But American women are perfecting, displaying on the world stage, and likely exporting and normalizing our therapeutic culture.
Simone Biles, who shocked the Olympic world Tuesday when she pulled out of the U.S. team gymnastics finals, said the emotional toll of the Tokyo Games, not a physical injury, prompted her withdrawal.
"Physically, I feel good. I'm in shape," she told Hoda Kotb on NBC's "TODAY" show following her exit. "Emotionally, it varies on the time and moment. Coming to the Olympics and being head star isn't an easy feat."
She explained further to NBC's Andrea Joyce that her struggle was "more mental, and we're just dealing with a couple of things internally." NBC)
The progressive media, run by silly women (many with the Y chromosome), are praising the quitting as an incontestable personal triumph. How standards have been inverted! What was once considered a failure is now a triumph. See, if anxiety makes performance impossible, there is no need to frame failure as a win. We can sympathize and commiserate, but let us applaud those who BRING IT despite the jitters.
Japan might rethink letting an American-minded primadonna represent them. The media is  obfuscating what went down with tennis player Naomi Osaka, so I am unsure as to whether she has withdrawn from the 2020 Olympics competition, of if she just lost. She had, however, withdrawn from "the French Open in May after refusing to participate in media availabilities."
Culture of Kneeling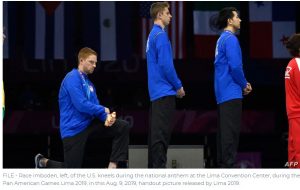 American athletes are becoming real killjoys. It is they who started the dumbass kneeling or taking a knee, and have now infected the world with it.
Read: "Taking a Knee is Akin To Taking A Pee."
*Image courtesy CNN