Commenting on 'The End of the All-Male, All-White Cockpit,' Fox News personality Tucker Carlson beseeched, June 3, 2022: "What's color to do with competence?" Sir, do check the aggregate accident statistics as to who are the best, safest pilots, sir! Correlation's not causation, BUT:
Via ScienceDirect: "… female pilots employed by major airlines had a significantly greater likelihood of pilot-error incidents than their male colleagues." Then the excuse-making weasel words begin—concealing with bafflegab that if you fly with a female you're more risk. Female pilots yield a higher error/accident rate but, say the Fake Science propagators, this is only because they are younger and less experienced. What you the passenger MUST DO is not be such a bigot and forget about these confounding variables when you fly. Ya hear me, sexist? SEE? The desired outcome is that you fly with a less able pilot, ceteris paribus. Noble cause.
Or, as our reader put it:
"It states in the beginning that females had a higher accident rate, then it states they are about the same as males. SO WHICH IS IT??? Pretty much."
I wonder. Does anyone get the life-and-death difference between a "pilot" trained at an affirmative-action, feel-good girlie flight school and a veteran of the Air Force? Remember Capt. Chesley B. "Sully" Sullenberger, III of the famed "Unable; we'll be in the Hudson"? That was "Manliness (Not A Miracle) On The Hudson."
Patronize the private airline industry nascent. Viva the free market and all the magnificent military trained man pilots ousted from the cartel of the commercial industry to fly private jets. This is what I'll be exploring, as I think my life is worth it: "Flying private is cheaper than you think — here are 6 airlines to consider for your next flight."  As illustrated in this 2002 tract—"Whose Property Is It Anyway?"—too many aspects of the airline industry, airports included, have been federalized (by The Shrub, aka Bush). Covid, and the cartel that has attached to it, has completed the demise of the industry.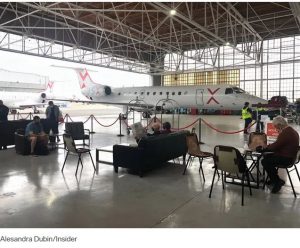 In the vain of in-your-face female awfulness, Lena Dunham err, DungHam, resurfaced, "posing poolside in a bikini." Says she, I "forgot how important it is to wear a bikini."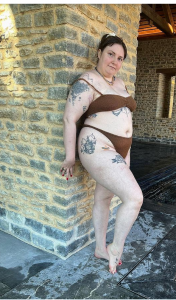 To be or not to bikini. I never thought of it this way. But if you say so, Lena. So, I posed in my bathroom, with my 30-year-old swimsuit, bought in Cape Town. But that's as far as I'll go with this outfit and this particular existential search for meaning.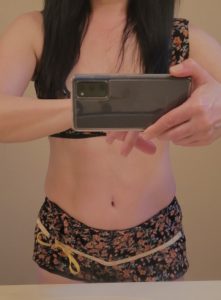 And, thank you, role model Lena. I feel like a woman, now. At least I'll say it: It is utter peacockery that moves women to pose, not authenticity, said here in "hedonism, not heroism":
To get naked for the world to see is immodest, not heroic. Displaying "saggy tummies" and "stretch marks" does not a hero make. Narcissism, self-adoration, bad taste, or just being comfortable in your own skin: these are not heroic, although they've been cast as such.
And here, in "Skanks in the Sky":
Women are generally far more narcissistic and exhibitionistic than males are and habitually ho-up for travel and work. There is sexy and there is skanky.
We are nature's worst peacocks, moved by vanity, not by the need to attract a mate, which is what moves the Real Peacock.
The celeb world responded to Lena Dunham with, "Just stunning."  The old man said (about Lena, not ilana), "More like breathtaking."
The lead image on this post comes via Max Denken of Gab. No need for words, but in case you mince yours or use euphemisms; I offer the correct crawler—as in the apt chyron beneath an image: Polina Gagarina, Russia's most famous singer, chaste, gorgeous, natural; vs America's  slumdog culture's offering: Lizzo. This mountain of flesh is seen mounting a jet. Let's hope Lizzo will not be piloting the thing.