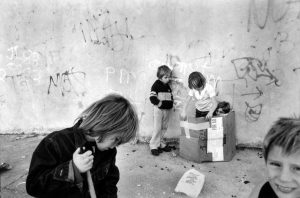 Mitt Romney's son did it. So did Madonna. Angelina Jolie pioneered the social art of color-coding her family, even disclosing her intention to acquire a designer, United Colors of Benetton family. About her quest for color-coordinated couture kids she said this to Anderson Cooper:
We don't know which—which country. But we're looking at different countries. And we're—I'm just—it's gonna be the balance of what would be the best for Mad[dox] and for Z. right now. It's, you know, another boy, another girl, which country, which race would fit best with the kids.
Clearly, some of the most sanctimonious, white, virtue-preeners around us go abroad in search of black kids to adopt. It's almost as though these people seek an amulet with which to elevate and immunize themselves against any fault-finding. Look at me: I'm perfect.
There is so much poverty in the US, in general. There is so much child poverty in the US, in particular. There is so much poverty among white American children. On the facts, adopting across racial lines often proves to be fraught for both adopted and adopting parties. A minefield of sorts.
Amy Coney Barrett, a much-touted candidate for the Supreme Court, has a child or two from Haiti. Is one ever permitted to question public figures who sidestep their country's poor, and go in search of kids with more exotic identities? Can we even ask?
UPDATE (9/23): Our reader below instructs that we dare not pose questions about a cohort that is distinguished by its phoniness. No can't do.
I doubt very much that Madonna is able to love anyone but herself. Check out the demeaning way in which she displays the poor kid. The black child looks like a gangster, not like a girl, tongue hanging out, gesturing, while Madonna decks herself up to look feminine. Unkind. Horrid.