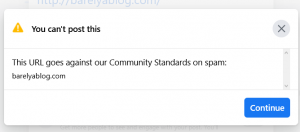 "Not everything that's banned by social media is worth reading. But the time is fast approaching when one can say with confidence that most of what isn't banned is not worth reading."—ILANA MERCER.
Or, at least, is unimportant. (Self-serving hyperbole? Maybe a smidgen.)

Facebook has banned both my domains: Even mention of their names is flagged on Facebook.
I've mentioned the latest blog post on Facebook by directing readers to Twitter.
Note how I've already censored myself, removing a perfectly fine adjective from the blog's description on Facebook ("Wall Of Moms? More Like Wall Of [Feral] Flesh.")
In any case, my guru confirms the following: "It looks like Facebook has banned www.barelyablog from posting to Facebook. It looks like they've also banned ilanamercer.com. Their reasoning is that you've 'violated their Community Standards.' What the violation was they will not say."
Indeed, the "Continue" button leads only to more Kafka:
Disagreeing with Deep Tech gets one nowhere.
"You're obviously doing something right," suggested a Twitter friend. First it was, "If you're not called a racist, you're doing something wrong." Now it's, "If you've not been banned by Deep Tech, you're doing something wrong."
Another asked, "Why the concerted effort at censorship by big tech right now, do you think?" For me, Arthur Pogonatus, the marginalizing has been ongoing for 20 yrs. First the Republicans when, in 2002, this writer came out against Bush's Iraq war–and for being independent on most issues. In 2018, I'm told, Wikipedia, the Southern Poverty Law Center of "encyclopedias, banned me. Banishing has been ongoing from one faction or another.
The best description of the New America comes courtesy of my colleague, Fred Reed, writing on the Unz Review, which has also been banned by Facebook and has become a haven for dissidents:
Congress does nothing, one parry neutering the other and all bought and paid for by special interests, by Wall Street and the arms makers and the big corporations. Local governments submit to the rioters or stand aside as the burning goes on. This is not society. It is chaos.
I agree with the Reed paragraph that precedes the one just posted, but, see, I can't post it, because, this time, people on the Right would evince an allergy to aspects of the objective truth and they'd "blow."
Fred's right. "It's Gonna Blow: Be a Miracle if it Don't."
A Washington Post writer compared the "fight against big tech [to] the fight against organized crime."  I'm not sure this comparison holds. For one, what fight?
Certainly, the author fails to mention the plight of those on the speech spectrum who've incurred the wrath of Deep Tech. In particular, those of us on the dissident right who've been banned and lack political representation or hefty champions (other than one small woman, whom I call "The Force": Michelle Malkin).
It's certainly not Don Trump, Jr. See "Is Political Participation Predicated On Views About Holocaust?"

RELATED: "The Anatomy of A Twitter Blocking — My Own," Ilana Mercer, June 27, 2019
UPDATE (3/22/022):
Nope. Users of Facefuck with few exceptions will comply with this command. My a/c has been locked until I do. This is done periodically to gain more control over info. Most freedom fighters COMPLAIN & COMPLY, right? I wait 'em out; they'll restore. & I never give em any tel #. pic.twitter.com/db2ZHJbRXJ

— ILANA Mercer (@IlanaMercer) March 23, 2022