The December 8th segment of Tucker Carlson Tonight was a celebrity circle jerk. Celebrity journos, NOT dissidents—for all are part of a well-backed, well-oiled power structure, none a powerless independent—bitched about not trending on Twatter, losing 40,000 followers here and there to shadowbans, all for posting mild, quasi-controversial tweets, such as "lockdowns are bad."
On the matter of COVID, and for quite some time, Tucker has not had one truly impressive, independent medical thinker on his show. By which I mean the likes of Dr. Peter McCullough, Dr. Kelly Victory, Robert Malone, and inquiring, honest minds the likes of Dr. John Campbell of the UK and Suneel Dhand, MD.
Tucker's resident expert, Dr. Marty Makary, epitomizes the mediocre mind in all his belated "findings" regarding COVID. Makary is no analytical thinker. He's safe, yet our host congratulates him with regularity for his "bravery." Preposterous.
It was almost 2 years ago that I shared an important item on LinkedIn posted by a highly credentialed researcher. She had been flabbergasted at having found no data on research to rule out the fact that the mRNA spike protein migrates well beyond the muscle, which is where vaccines are meant to remain—"muscle tissue also tends to keep vaccine reactions localized." Instead, spike protein has been found throughout bodily tissue.
Two years hence, Tucker's Marty Makary mentioned this phenomenon on Tucker Carlson Tonight. "Good morning Elijah," as we'd say in Israel to a Johnny-come-lately. Everything the likes of Makary have to say about COVID is derivative and thus too late. Had I listened to the likes of Makary, I'd be vaccinated for that was his general recommendation. Naturally, I didn't. There was no risk of that.
Another late, far more meaningful, awakening came from Henry Kissinger. The famous practitioner of Realpolitik in diplomacy finally piped up in favor of "achieving peace through negotiation" between Ukraine and Russia. Kissinger reminded his neocon readership at The Spectator, alas all too gingerly, that "Russia has made decisive contributions to the global equilibrium and to the balance of power for over half a millennium. Its historical role should not be degraded." He "recommended establishing a ceasefire line along the borders existing where the war started…"
If the invasion of Ukraine commenced on 24 February, 2022, your columnist was first to resurrect the concept of Realpolitik on March 3, 2022, writing the following in "Uncle Sam Still King Of All Invaders: Ukraine, Realpolitik And The West's Failure."

Good old realpolitik is what Zelensky should have been practicing with his powerful neighbors and historic brethren, the Russians. This is precisely what President Joe Biden should be shamed into doing now: talk to Putin; thrash out a cease-fire, ASAP; haggle for the lives of the population under siege because led by imbeciles.

Realpolitik is practical politics, the art of getting along, differences and all, in a real world in which reality, including the differences between people and their political systems, is accepted and dealt with.

Contrary to proclamations, it is not a moral foreign policy that America practices but a moralistic one. Be like us or we'll destroy you! Instead of realpolitik, Zelensky adopted America's moralistic, impolitic, uppity manners. It took a war to get Zelensky to the negotiating table with Putin, where he ought to have been from the start.
Look, the US Uniparty is trying to effect regime change in Russia. Nevertheless, Mr. Carlson—and here again he falls short—seems to believe Americans have a right to travel to Russia and remain unharmed, even though we routinely malign that country as a whole, accuse it of being behind every malfunction in the US, and have imprisoned Russians visiting the US—young Maria Butina for example—accusing them of spying. Russia returns the favor. This is the natural order of things.
Finally, it looks like my favorite royal, Kate Middleton, is taking the mickey out of the monstrously crass Meghan Markle, and doing that with an effortless, graceful, traditional curtsy. In tilting that delicate ankle with a broad smile and good cheer, Kate put two Ugly and Evil attention seekers in their place.
Markle is a two-bit actress who takes pride in NOT BEING ABLE TO LEARN THE SIMPLEST OF ROUTINES: the curtsy.  We all know better. Markle is spiteful and nasty. She comes not to build a great family, but to destroy it—sow divisions, nurse grudges and veer from drama to drama, for that is how such a simple, cunning organism as she is maintains a level of arousal.
Try as Kate might to counter aggression against her person and family with class—there comes a time when a pointy Prada stiletto embedded in a squat behind, Markle's, is the best option. The royals look weak–and worse. It's time to make the pygmy nipping at their heels cease and desist.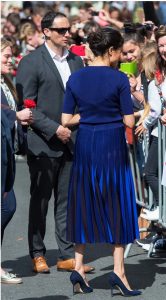 LASTLY: David Vance and I will be live on our HARD TRUTH podcast, Tuesday, January 20, at about 12:45 Pacific Time.  Join us for a toast. Send questions in real time.