The Preface to "Into the Cannibal's Pot: Lessons For America From Post-Apartheid South Africa" can be read exclusively on VDARE.COM. Here's a teaser:
"It is no surprise that a manifesto against majoritarianism would not find favor with the mission of most American publishers. Opposition to mass society was once an accepted (indeed, unremarkable) theme in the richly layered works of iconic conservatives such as Edmund Burke, Russell Kirk, and James Burnham. Today, by contrast, such opposition is considered as damning as it is impolitic.
And don't even think of writing a less-than hagiographical account of Nelson Mandela. Time Magazine's Richard Stengel has serialized his tributes to Saint Mandela. (Stengel has completed two. Perhaps a third is planned?) But an opposing voice to the media paean for the democratic South Africa and its deity, written by a dissenting South African exile—this cannot be countenanced." …
Read the complete Preface at VDARE.COM
UPDATE (June 10): I have no idea if The Cannibal's rank on Amazon measures anything other than an uptick in sales—from none to some. Yes, you know that I'm a rational skeptic. Let's see. But it would be fabulous if readers kept this rank low (or high, however you prefer to look at it). I encourage you all to write reviews on Amazon—pan or praise the book, so long as you are polite and refrain from personal insults.
Here is the rank right now:
Product Details
* Hardcover: 338 pages
* Publisher: Bytech Services (May 10, 2011)
* Language: English
* ISBN-10: 0982773439
* ISBN-13: 978-0982773437
* Product Dimensions: 8.5 x 5.5 x 0.9 inches
* Shipping Weight: 1.3 pounds (View shipping rates and policies)
* Average Customer Review: Be the first to review this item
* Amazon Bestsellers Rank: #1,454 in Books (See Top 100 in Books)
#1 in Books > Nonfiction > Government > Social Policy
#34 in Books > Nonfiction > Philosophy
****
UPDATE II: For today, at least, The Cannibal is #1 in the "Government Social Policy" on Amazon: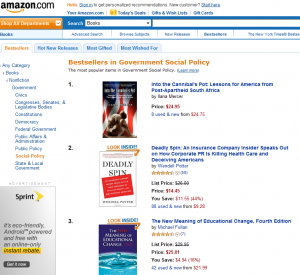 UPDATE III (June 12): For a third day in a row, The Cannibal is Amazon's #1 in the category on Social Policy. I hope you've purchased your copy. I've said numerous times: Publisher is not charging for shipping. This is valuable to my South African readers. Kindle will be up by, I am told (by the best man possible), early next week, probably tomorrow.