WATCH HARD TRUTH: "Tucker Cancels GOP, So Should You: 'Republicans Have Done Nothing To Defend YOU'"
In his June 20, 2020 J'accuse, Tucker Carlson, for all practical purposes, cancelled the Republican Party:
"Property was looted, people were beaten and killed and Republicans joined the side doing the looting, beating and killing. President of the Heritage Foundation and think tanks on the right climbed into … law enforcement and ordinary Americans, calling them racists, ignoring the damage done to their property and person."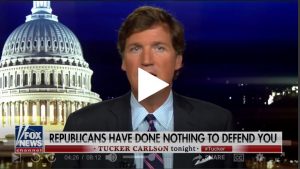 Jack Kerwick has been anatomizing ConOink establishment failures for over a decade:
"in  the country bequeathed to us by the generation that, in the midst of a smallpox epidemic, fought and defeated the most powerful empire in the world in order to be a self-governing union of sovereign states—subjected itself to a nationwide internment. The United State of America became the Interned States of America as the Constitution of the Old Republic was indefinitely revoked, the economy crushed, and 'the little platoons'—as Burke referred to those buffers between the individual and the State, those forms of community constitutive of civil society and in the absence of which human flourishing would be impossible—were radically undermined. … And all of this occurred in a country with a Republican President, a Republican-controlled Senate, a Supreme Court dominated by Republican appointees, and a majority of whose state legislatures and governors are Republican."
HARD TRUTH'S David Vance and myself speak to Jack about the irreparably hopeless Republican Racket. RIP, GOP.
WATCH: "Tucker Cancels GOP, So Should You: 'Republicans Have Done Nothing To Defend YOU.'
 Also on Odysee and BitChute if those platforms float your boat