President Donald Trump doffed a hat to the Obamas in his magnificent inaugural speech:
And we are grateful to President Obama and first lady Michelle Obama for their gracious aid throughout this transition.

They have been magnificent.

Thank you.
So why the face, Michelle Obama? It's more than you deserve.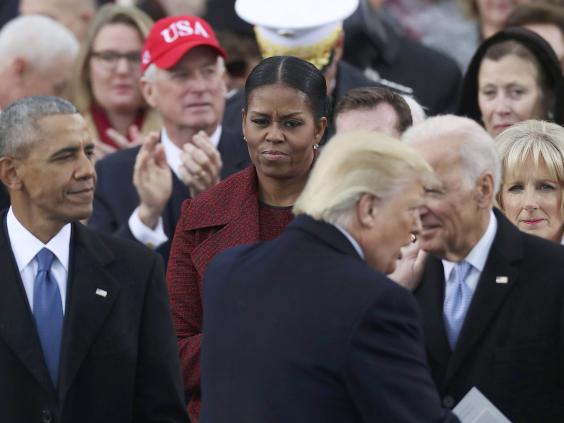 Scowl:
The angry face of #MichelleObama. And the #FakeNew Media sing her praise & claim she's ever-so gracious and… https://t.co/Tm1KPvT4JD

— Ilana Mercer (@IlanaMercer) January 20, 2017

Upgrades: "There are many ways to show your respect for people and events, and one is to present yourself with elegance and dignity":
OLD VS NEW!!! Easily the biggest upgrade in presidential history! #DonaldTrump #MAGA #Obama #Class #WhiteHouse #Merica #Freedom #Democracy pic.twitter.com/AGQCuyueeh

— Right Wing News (@RightWingN) January 17, 2017
RELATED: "I'm With Her, Against Hillary's Malevolent Matriarchy."