Note how Covid conformity had been replaced with the requirement that we all find religion on Ukraine.
Duly, one of the world's greatest conductors, Russian Valery Gergiev, was fired from his position as head of the Munich Philharmonic because he wouldn't denounce Putin. The Free World in action!
Will they bring in the Rack? Unnecessary. Banishment from polite company and professional cancellation by right-thinking people is worse than the pain of torture on the Rack.
The masses crave an opiate. Leaders know how to exploit this quest for group-think. As soon as the usefulness of one faith (Covid) expires; another takes its place (Ukraine) courtesy of the ruling elites, and with the willing complicity of the crowds. Those who do not think in lockstep—why, they need to be banished, punished.
Illness and war involve matters of life and death. The heightened emotions surrounding matters of life and death ensures a state of constant emotional arousal, in which reason recedes.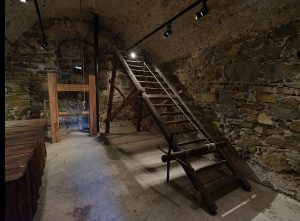 UPDATE: His columns got Boyd Cathey a threatening phone-call. Dr. Cathey asks:
It got me to thinking about questions I ask anyone who approaches me about my stance on what is going on in Ukraine: Why the over-the-top passion on this topic? Why Ukraine? Why such an hysterical response when Ukraine and its position in Europe and in the world are not strategically important to us? After all, the United States has been on the invading-end of conflicts for decades…Bosnia, Iraq, Syria, Libya, Afghanistan, and so on. Yet, somehow our foreign ventures are always virtuous and noble? And what kind of outrage did we express for those hundreds of thousands of Tutsis killed in Uganda or the thousands of Kurdish inhabitants eliminated by our ally Turkey?
READ Dr. Cathey's column. Column archive is here.