Handlers clearly neglected a wonderful working dog, Dayko, who died of exhaustion ("massive coronary myocardial infarction and acute respiratory failure"), rooting for survivors of the Ecuador earthquake. Now the Ibara fire service is glorifying Dayko somewhat self-servingly, in my opinion, when a couple of big bowls of water infused with electrolytes would have kept Dayko alive.
#Dayko Dog didn't need to die. If only humans were kinder, more keyed-in to their loyal companions. https://t.co/vz6HpNLxoc

— Ilana Mercer (@IlanaMercer) April 26, 2016
I never understand it when people are unresponsive to my many educational posts about parrots. "I'm a dog person," they shrug. Despite being a parrot person—indeed, nothing compares to a parrot for sheer intelligent, sociability, use of language (a thing no other animal musters) and cuteness—the plight of all abused and neglected animals pains.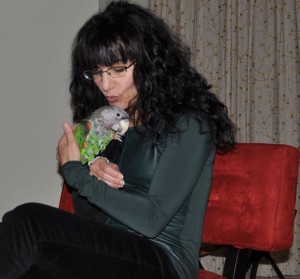 Guiltily, Sean Hannity commented today on the radio about dog food. He thinks he's wrong to feed his dogs chunks of what he himself eats. Mr. Hannity has clearly been told by pushers of fake food that dogs need extruded pellets.
WTF? And why? That people can be led to think extruded foodstuff, out of packets, is better for an animal than fresh food—a little meat, fish, chicken (BONES!), fruit, vegetables, nuts (for birdies)—is idiotic. (Birds do not thrive on seed or lettuce. They will become malnourished and exhibit deformities.)
Where in nature do animals eat processed food? I'm sure you can save money by going back to the old-fashioned practice of feeding your pets scraps or, still better, apportioning them a little of your food, before eating. As Mr. Hannity does.
The Hebrew Bible tells us to feed our (servants) and animals first.
In any event, this sweet soul didn't need to die. Rest in peace, Dayko.
P.S.: Oscar-Wood, the parrot of the house is currently evicting all the "bad toys" from his toy box. (Parrots always have a plan; always up to something.) He keeps only the toys he likes. The room is strewn with "bad toys," tossed high and low emphatically and as he gives me dirty looks: "don't you know I don't tolerate these toys?" He roots around, actively separating out the toys, until in the toy box remain only the favored wooden toys. Adorable hook-bill.