Twitter has blocked my account and is trying to extort a phone number from me. I never give these shysters any—but any—contact other than my public email. I can't fathom why people give in and share personal information like a mobile phone number with these crooks.
I am literally off-the-grid when it comes to my mobile phone. (Why so weak? Resist. Stand for individualism.) The Twitter blocking is probably because I shared an innocent email of a terribly ugly Paris-based building, embodying "nihilism and liberalism."
This accurate description of Paris' modern aesthetic ethos came via—OMG!— Richard Spencer. Ridiculous. Fuck Twitter. Their patronizing time-out for those of us who do no confirm is pathetic.

You can find me on Gab: https://gab.com/ILANAMERCER.
SUBSCRIBE TO THE ILANA MERCER MAILING LIST: http://www.ilanamercer.com/mailing-list/

AND, many thanks in advance to those who've "Liked" and "Shared" my Facebook Author Page, https://www.facebook.com/PaleolibertarianAuthorILANAMercer/, in support of work that is now in its twentieth year. http://www.ilanamercer.com/weekly-column/
UPDATE I (4/16/019): There is Right and there are Israel Firster, neocon Republicans like Ben Shapiro. We of the Old True Right are the true victims of censorship. The other establishment elites just get together on Fox News to kvetch about how libtards, who don't know Left from Right, make them sad. As for President Donald J. Trump: He has generally defended the fake right. Or, as Jack Kerwick calls it, the Big Con.
UPDATE II: This might have been what got my Twitter account restricted. What's objectionable about it? Asking why Millennial morons get to censor speech? The question itself is objectionable.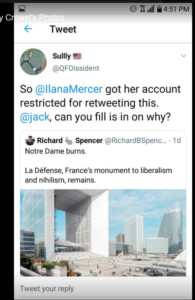 UPDATE III (4/17): Thanks to all who have shared my plight.
Author and Townhall.com writer @ILANAMERCER was recently censored and deplatformed by Twitter for wrongthink, so I figured I would highlight her recent work here on /g/GreatAwakening to help compensate. Here's one of her more recent columns on the Mueller probe, in which she makes some interesting points about the way the Cabal stitches its storylines together …
UPDATE IV (4/20/019): This is what the shakedown notice looks like to the Twitter account holder, who's been placed on time-out by his or her moral superiors at Twitter: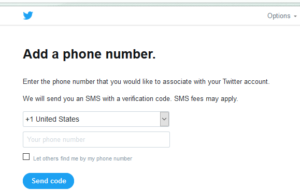 "Excellent."
"We will make the political pariah cough-up her most private information, or else she'll remain in the doghouse."
UPDATE V (22/4):
The note received from Twitter overlords indicated a violation of their safe-spaces polices, whatever that means, and the need to be aware of their rules of conduct. There seems to be a lot of faith in Twitter on this feed (as opposed to on the realistic Gab). It's misplaced https://t.co/EAstq5IpKZ

— Ilana Mercer (@IlanaMercer) April 22, 2019