The 3.1K number on my WND column, "Ranchers Hammond & Bundy: The Best of America," refers to the number of times the column has been shared via any of the methods represented by the logo buttons to the left of the 3.1K. So that's 3,100, a really big number, if accurate, but who knows?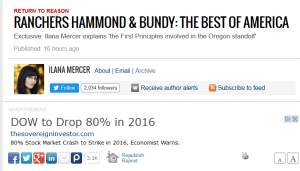 LETTERS:
Writes Tim:
Ms. Mercer,

The show isn't Hammond or bundy or even the Feds; it's the transformation of rural America from a once-independent/gutsy psyche to what you saw today – the Burns locals showing up and asking the take-over guys to leave. Who planted fear and gutlessness into a community like Burns? I came back from combat in the Nam (usmc) and worked many jobs in the Oregon high desert; timber felling, loading hay trucks, fighting wild fires. These were once tough people who (then) would have supported the take-over stand, unanimously – seen its higher value as part of their own heritage. You're smart, Ms Mercer, so tell me how urban fear and self-seeking became homogenized into this country's entire demographic landscape. Was it media? Was it public education? Was it greed? Bottom line, there ain't gonna be no more "Alamos." Yes, the Hammonds are good guys, but even they want Bundy's bunch outa town. It's tragic and irreversible. What's left is a man's (person's) responsibility to truth and courage; individual-by-individual, against the storm of darkness. And a lot of grace from God for that act.
Writes HS:
Another good column, Ilana. Do you ever feel like you are a voice crying in the wilderness? Your assessment of the situation of the land grab in Oregon and of those who have commented on it is a welcomed relief amid all the grandstanding from the powers that be and the media. Thank you for the level-headed analysis. You make much sense and we are indebted to you for enlightening us. Keep it up.
Humphrey
UPDATE: "Ranchers Hammond & Bundy: The Best Of America" was discussed on The Bill Meyer Show, January 8, 2016 (LISTEN).