Studio 54 groupie Margaret Trudeau: Is she even wearing underwear?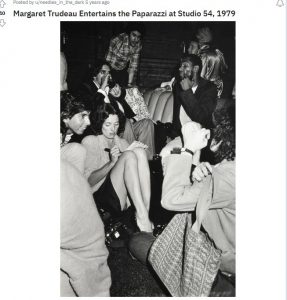 Just look at his mincing stride, the vain coif, the pasty, doughy face and hollow stupid eyes, like those of his mom, Margaret.  Justine Trudeau was practically conceived and raised at the debauch Studio 54. This scumbag is telling the salt of the earth, the best of Canada, Truckers For Freedom, to turn tail and go home, as he continues to treat them as second-class subjects.
Today, I shared a clear message to those taking part in illegal blockades and occupations: We've heard you. But there are consequences for breaking the law, and those consequences are becoming increasingly severe. It's time to go home to your communities. pic.twitter.com/o6RyoxD46O

— Justin Trudeau (@JustinTrudeau) February 12, 2022
UPDATED (2/12): I updated the title of this post with the moniker "Spawn Of Studio 54." I am assured by a Canadian compatriot that indeed, my assessment is correct: Justine's mother Margaret was a total groupie.